As You are : Musikminnen / Nils Lindberg
As You are, Music Memories
ISBN 91-85374-43-1
Swedish, 168 pages
Stockholm: Svenskt visarkiv, 2006
Serie: Publikationer från jazzavdelningen vid Svenskt visarkiv, 0281-5567 ; 17
(Jazz Department at The Centre for Swedish Folk Music and Jazz Research)
Nils Lindberg has collected his music memories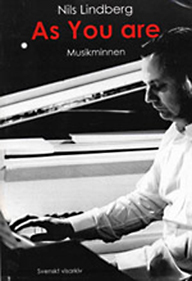 Cover of the book 'As You are'
by Nils Lindberg
Nils Lindberg enjoys a unique position in Swedish musical life. His spectrum is broad, he masters jazz, art music as well as folk music. In addition, he often likes to mix improvised with composed, and secular with sacred music. In Lindberg's extended family we find fiddlers, theologians, improvisers, organists, singers and composers. His uncle Oskar Lindberg wrote the well-known Gammal fäbodpsalmfrån Dalarna (Old Pastoral Hymn from Dalecarlia).
Nils Lindberg has managed to combine jazz, art music and Swedish folk music with his own personal touch. In this book Nils Lindberg looks back on five exciting decades in the service of music, and introduces us to many stars he has collaborated with throughout the years, including Duke Ellington, Josephine Baker, Judy Garland and Alice Babs.
Quotes:
"The pianist, composer and arranger Nils Lindberg grew up in a large family of musicians from Dalecarlia and his whole life has been filled with music. Now he has collected all his music memories in the book As You Are, which is also the title of one of his finest compositions.
Almost in the form of a diary, and with great accuracy when it comes to other musicians, titles, venues, etc., we can follow Nils Lindberg's career from when the 15-year-old son of a clergyman jumped up and tore off the Anitra's Dance Boogie during a dance break at home in Folkets Park in Gagnef. This was a big success with the audience, but did not go over so well with members of his family. The person who was most shocked at Nils' fancy for jazz was his uncle, the composer Oskar Lindberg.
But the family has afterwards surely been proud of Nils' diversified, versatile and boundary-transcending career, which without a doubt has been eventful and impressive. And the book conveys this too. To a large extent Nils has also verified Swedish and international successes with newspaper headlines and quotations.
The 170-page book concludes with a discography, where we are reminded of such record classics as Sax Appeal (1960), Trisection (1962), Music with a Jazz Flavour (with Alice Babs 1973), Serenading Duke Ellington (with Alice Babs 1973), As You Are (with Karin Krog 1976), Saxes Galore (1979) and Requiem (1994)."
Gunnar Holmberg (Translation: Robert Carroll)